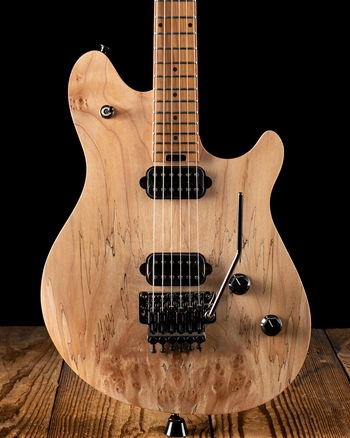 $
699.99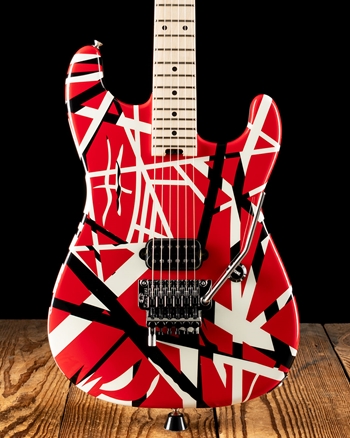 $
999.99
Eddie Van Halen. Does it get any better than that? Maybe, but you can certainly make the argument that Eddie is as great a guitarist as has ever existed. Eddie's unique combination of writing, riffing, and soloing has made him one of the greatest forces the guitar has ever seen. Not only can he write some of the most fantastic and memorable guitar riffs and songs in history, but Eddie's incredible technique and skill as a performer and turned the heads of audiences for decades. This is why we at N Stuff Music are very proud to be a dealer of EVH Guitars and carry on the legacy that Eddie Van Halen continue to builds today.
Eddie Van Halen is one of the incredible combinations of technique both in terms of his ability to alternate pick, play legato, chug heavy riffs, and bimanually fingertap. EVH guitars are built to be total workhorse instruments. These instruments are most concerned with playability, staying in tune, and producing a high-gain incredible rock guitar sound. EVH striped series guitars just feature a double locking tremolo along with one single bridge humbucker. This allows all the strings magnetism to pull right to that bridge humbucker and give you a relentless rock guitar sound. The EVH Wolfgang guitars are two humbucker guitars that are geared towards playing a variety of different styles whether it's metal, classic rock, blues, funk, or most styles.
These guitars are an amazing tribute to Eddie Van Halen himself and allow players everywhere to live out the inspiration sonically that the classic EVH sound has created.
Much of the start of this brand of guitars surrounds Eddie's classic Frankenstrat. The frankenstrat was Eddie's attempt at combining characteristics of both a Gibson and a Fender Stratocaster. The body is a Stratocaster body but with a Gibson humbucker and double locking tremolo to achieve those classic dive bombs that EVH is known for. Thus, the model of the frankenstrat was the starting point for the EVH striped guitars and over time The Wolfgang came along as a different variation of a Peavey model instrument Eddie once used.
At N Stuff Music we realize the incredible inspiration that Eddie has had in the guitar world and thus we see a huge need for us to carry his instruments for the countless guitarists who have been inspired by Eddie.
Contact us at N Stuff Music today for any questions or needs regarding EVH guitars. We have customer service that is practically second to none and pride ourselves in our mission of providing optimum value for the customer. Our employees are experts in knowing the gear that exists in the industry and can guide you down the road of fulfilling your own musical needs.
We welcome our customers or potential customers to come into our store's location and try all of our products. Feel free to take the time necessary to determine what products are going to be right for you. Thank you for visiting our website and for shopping at N Stuff Music!