---
Rental Equipment at N Stuff Music
Whether you are holding a meeting at the convention center or a local hotel, or perhaps having an outdoor concert or wedding, we have the rental gear for your event or gig.
Just need something for the weekend while your gear is in the shop? Maybe you just can't afford that brand-new one right now? Try out our famous Rental Department! Prices so low you won't believe it!
N Stuff Music, located in Pittsburgh, PA, offers top notch rentals at a price anyone can afford!
---
We Rent The Following Gear at N Stuff Music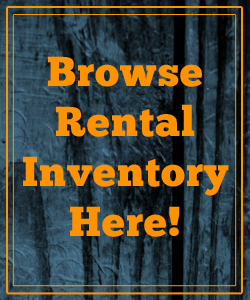 Guitars | Basses | Amps | Effects | Fog Machines | Drum Kits | Congas | Djembes | Keyboards | Microphones | Lighting | DJ Mixers | CD Players | Recording Gear | Power Amps | Karaoke Systems | PA Systems | Monitors | Wireless Microphones | Wireless Guitar Systems and More...
---
Rental Requirements at N Stuff Music
Must possess a valid Pennsylvania Driver's License (Not an ID card)
Verifiable Local Phone Number within the 412 or 724 Area Codes (no exceptions)
Local Address
Valid Credit Card
$10.00 Deposit on all Rentals (rental transactions, including deposits are done either in Cash, Visa, MasterCard or Discover -- no checks on first time rentals)
First time Rentals must be approved at least 1/2 hour before end of business day
---
Frequently Asked Questions About Our Rental Department
Q: What do I need to rent at N Stuff Music?
A: You need: A valid Pennsylvania Driver's license, verifiable local phone number and address, a credit card and deposit.
Q: What is considered "Local"?
A: Anyone who lives in the 412 or 724 area codes.
Q: Does N Stuff Music sell rental equipment?
A: Yes, we do. Our equipment is available for purchase any time. Prices are determined by age.
Q: Do you Reserve Equipment?
A: We strongly recommend / insist on making reservations for wireless systems for spring musicals and holiday shows. Otherwise, we typically have plenty of gear available any time. Additionally, you can call or email with a list of what items you need to make your rental process more seamless.
Q: Do you have rent-to-own contracts?
A:We do not have a 'rent-to-own' contract per se. However, the equipment you are renting is always available for purchase at a great deal!
Q: What if I don't live in the Pittsburgh area, can I rent from you while I'm in town?
A: When these situations arise, we review them on a case-by-case basis. We will do everything we can to accommodate you. Having a local tie of some form will help.
Q: I have a monthly rental I plan on keeping a while. Do you have an auto pay option?
A: Yes we do. Just ask one of our N Stuff Music representatives, and they can set you up. With Auto Pay, there are no late fees.
Q: Can you sponsor my event or donate equipment to my organization?
A: While we cannot donate our rental equipment, we can offer a substantial discount to help alleviate the costs involved with organizing your charitable event.
---